Sienna residents are known to have big hearts. One of the biggest is Missy Amschwand Bellinger.
Missy founded what is today A Shelter for Cancer Families (ASCF) following the vision of her husband Tom, who after being diagnosed with sarcoma, saw a need for tangible support for families affected by cancer. Sadly, after an 18-month battle with the rare cancer, Tom passed away at age 30.
She built upon Tom's vision, creating the Amschwand Sarcoma Cancer Foundation in 2001 to address the needs of families affected by cancer (primarily sarcoma). A focus was on housing options for families coming to Houston seeking medical care and helping people with their cancer journey.
In 2017, Amschwand Sarcoma Cancer Foundation transitioned to A Shelter for Cancer Families expanding their focus to people affected by all types of cancer.
Today, the ASCF team (three of whom also reside in Sienna) continues to offer cancer families seeking care in the Texas Medical Center the opportunity to focus on their care without the additional burden of worrying where they will stay, how they will navigate and if they will miss celebrating important milestones along the way. From active treatment to survivorship or even hospice, ASCF provides options when options are limited – at no cost to the families they serve.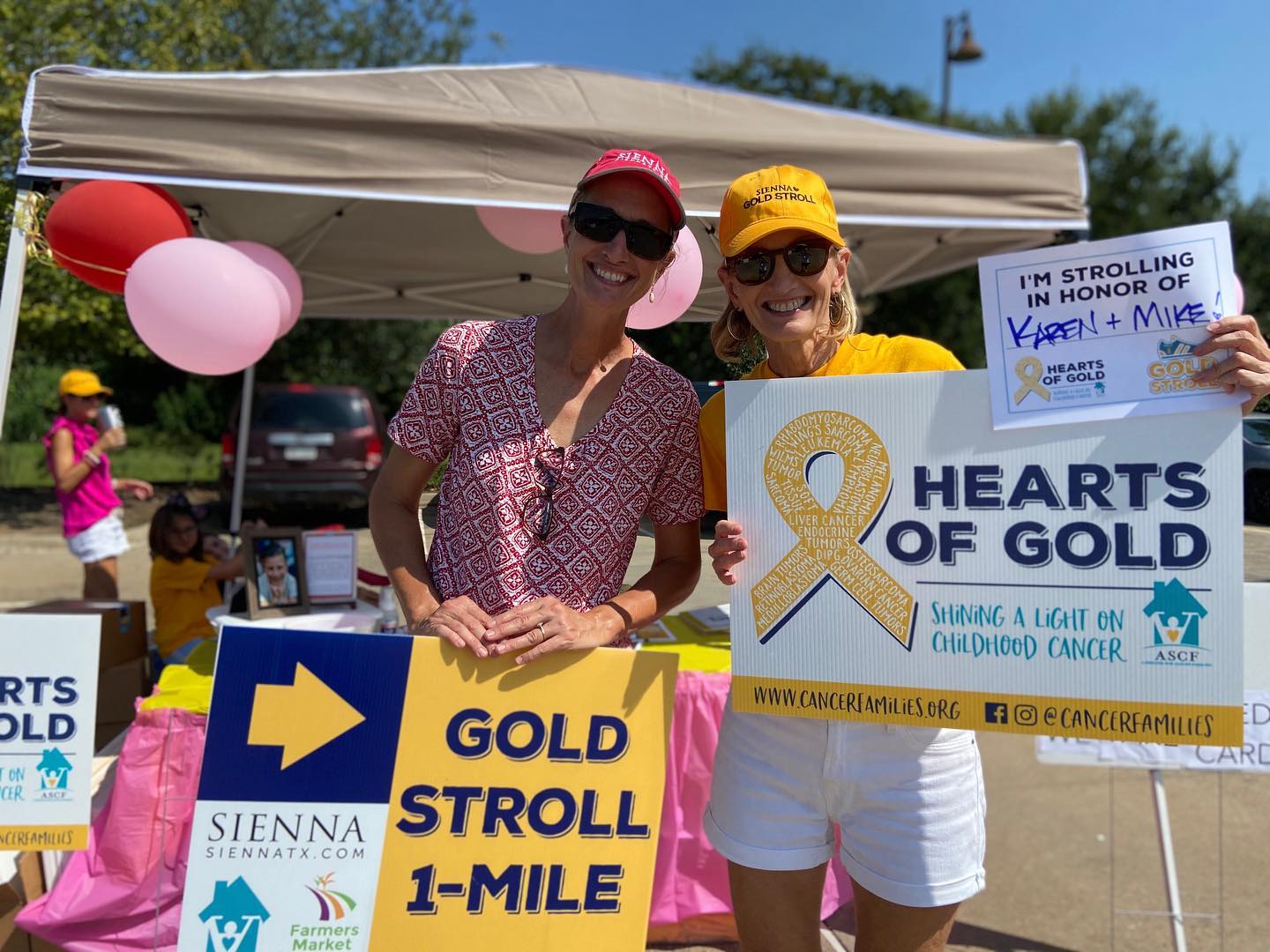 Some of the initiatives that allow ASCF to continue its good work include the high-profile, high-glam "Catwalk" held each year. One of our favorites is the Hearts of Gold childhood cancer awareness campaign. The September-long campaign has a variety of ways to participate, and the Sienna community goes above and beyond. For those not familiar, you can purchase yard signs, make donations or participate in the Gold Stroll. There is also a Gold Rush where gold "ribbons" are placed in your yard and then you make a donation to have them removed and nominate the next home to be gold rushed.
With such strong Sienna ties, it's only natural that ASCF is the beneficiary of the 2021 Sienna Art Festival, happening 10 a.m. to 5 p.m. Saturday, Nov. 6, at the model home village of Sienna Oaks Lake. Artists from Houston and beyond will be displaying and selling their work. Wine, food and music will add to the fun. Click here to learn more and see the growing list of participating artists.
Want to get involved with ASCF? Here's how.