Heart-felt Delivery to Children Made by Darling Homes' Employees on October 3, 2012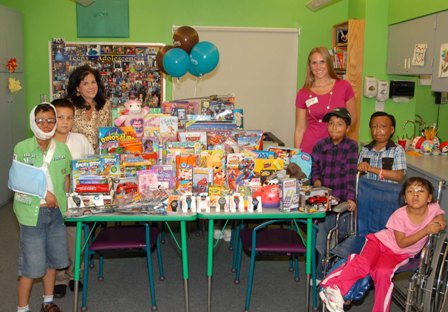 Houston-area homebuilder, Darling Homes, recently delivered hundreds of toys and gifts from the wish list of children in recovery at Shriners Hospitals for Children in Galveston. The donation drive was spearheaded by Judi Brewer, a Darling Homes' employee, whose son was treated and cared for burns by the world-renowned facility 16 years ago. Mobilized through the homebuilder's employee-led program Darling Cares, Houston-area employees rallied around the drive in support of their co-worker and the vision she shared to show compassion, love and support to the children and their families during their recovery time. Employees personally delivered collected donations to the Shriners Hospitals for Children, located in the heart of Galveston, on October 3, 2012.
"My passion for this project came from a horrific time in my life when my 4-year-old son, Justin, was badly burned and doctors in Houston referred me to Shriners Burn Hospital," stated Judi Brewer, Lead Sales Assistant, Darling Homes. "My experience is probably every mother's nightmare. I was cooking in the kitchen, standing right there as my son reached up and grabbed the handle of a pot of boiling water severely burning his face and arm. Week after week, we drove to Galveston to receive what we believe was the best possible medical treatment and care available in the world. The hospital and staff was amazing. They provided treatment, supplies and a custom silicon mask for his arm at no cost to our family. I've never forgotten the compassion they showed or the faces of other burn victims and their families who were also suffering. I've always wanted to help and am grateful for the opportunity Darling Cares provided to give back to this wonderful facility and the families it serves," she concluded.
Darling Homes' employees donated hundreds of toys and gifts from a "wish list" for children of all ages provided by Shriners Hospitals for Children. Donations for the children included digital watches, English and Spanish movies and books, LEGO® pieces, baby dolls and other gift items to lift the spirits of the children and their families during their recovery.
Darling Homes participates in a variety of programs supporting the welfare of communities in the Greater Houston Area. The company encourages employees to take an active role in the company's outreach program referred to as Darling Cares. Darling Cares is an employee-led program identifying programs for employees to dedicate time, resources and efforts to assist communities and make a difference in the lives of others. For additional information about Darling Homes, visit www.darlinghomes.com.
About Darling Homes
Bob, Bill and Steve Darling, three brothers who shared a passion for building homes and turning dreams into reality, started Darling Homes, based in Dallas, Texas, 25 years ago. Their standard for fine craftsmanship, customer satisfaction and design, with great attention to homebuyers' needs, enabled the company to expand its operations across Dallas-Fort Worth and the Greater Houston Metroplex. Darling Homes has been ranked 12th in the Houston Business Journal's Top 25 Largest Houston Area Homebuilder's List. Additionally, the homebuilder is continually recognized as a Top 100 builder; ranked in the top 10 percent in customer satisfaction among national homebuilders; recognized by J.D. Power and Associates; and awarded for their charitable outreach within the communities they build. For additional information about Darling Homes, visit darlinghomes.com.