SUGAR LAND, TX – The Student Council at Jan Schiff Elementary has been recognized with an Award of Excellence by the National Association of Elementary School Principals.
The award was presented to the Fort Bend ISD school for its Student Council's dedication to community service as well as letters of recommendation prepared by the club's Sponsor, Tiffany Agina, the Student Council's 5th grade president and vice-president, and Principal Mary Brewster.
"Student Council is an important part of the overall experience of our students," notes Brewster. "It demonstrates the importance of a democratic process and the need to be of service to others."
During the year, Schiff Student Council lead two community initiatives – a holiday food drive during Thanksgiving and most recently, participation in "Pennies for Patients," an initiative which encourages students to collect pennies for children with childhood cancers. This year's collection netted more than $1,300.
"We're very proud to carry on Jan Schiff's legacy of service to the community," adds Brewster.
One student per class in grades 3-5 is elected by their peers to the Schiff Student Council. Fifth-grade students are elected as officers.
Jan Schiff Elementary, part of the Fort Bend Independent School District, is a Texas Education Agency "Recognized" campus.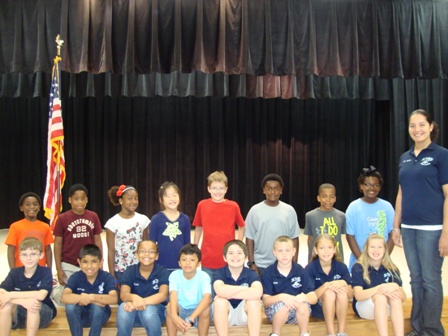 Schiff Elementary Student Council members (seated l. to r.) Charles Simpson (President), Jacob Belmarez, Alexandra Starnes, Vincent Ramiro, Nathan Johnston, Andrew Alexander, Alyssa Murrell, Sara Donovan (Secretary) and (standing l. to r.) Joshua Babineaux, Avante Johnson, Chloe Jolivet, Stella Dong, Grant Goolsby (Vice-President), Jarid Babineaux (Treasurer), Trey Huggins, Dylan Geter, and Sponsor - Mrs. Agina.