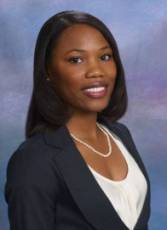 Congratulations to sixth-grade math teacher Tamika Taylor, Baines Middle School's Teacher of the Year.
"My teaching philosophy is grounded on the values of student and personal growth, professionalism and excellence," says Ms. Taylor, now in her fifth year at Baines.
"Learning should be fun, cooperative, hands-on and humorous. We laugh a lot in my classroom," she adds. "Every person remembers that one teacher who impacted him or her in the most magnificent ways. I strive to be that teacher every day."
A graduate of Texas A&M-Kingsville, Ms. Taylor later earned a Masters of Business Administration and a Masters degree in Education.
Opened in 2005, Baines Middle School offers a Gifted & Talented program, Honors-Level courses for 6th grade students and Pre-Advanced Placement program for 7th and 8th grade students.