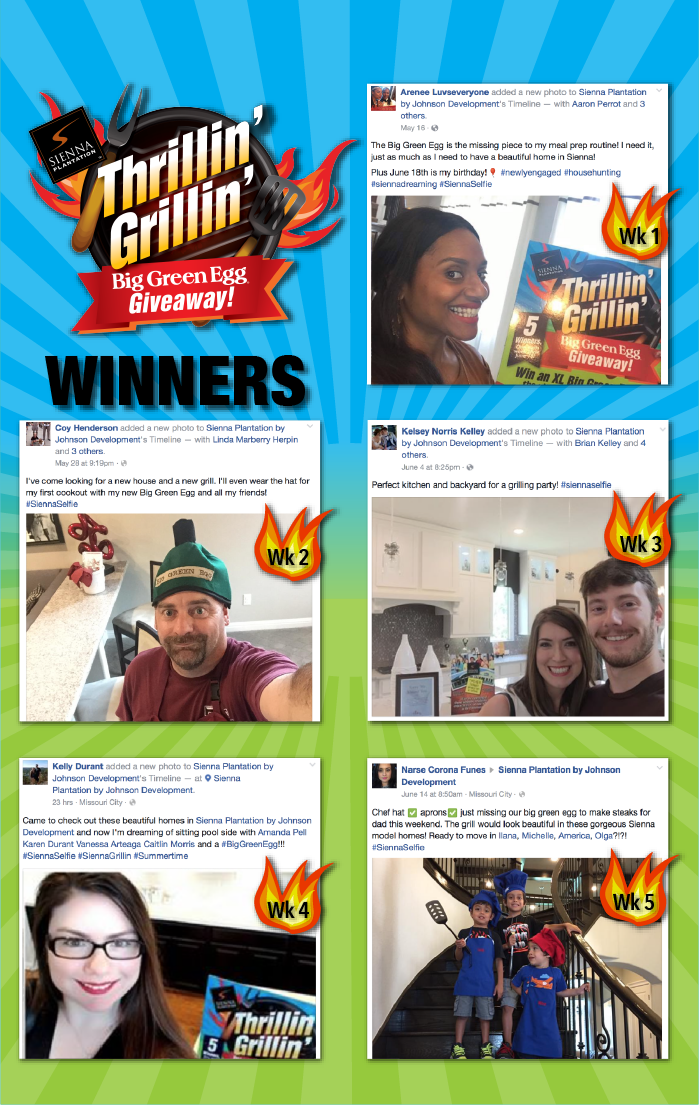 Little chefs, green hats and big smiles won five lucky people the ultimate kamado-style charcoal grill during our Thrillin' Grillin' Big Green Egg giveaway.
Our five-week contest asked visitors to head to our sizzling-hot model homes to take selfies and post them to our Facebook page. And boy, did they ever!
Narse Corona Funes posted an adorable picture of her little chefs preparing to grill steaks for dad — if they won. Luckily for dad, they did. Coy Henderson wore his big, green hat and grillin' apron to one of our models and promised to wear the same hat during his first cookout with his new Big Green Egg (we will hold you to that, Coy!).
Kelly Durant overachieved and sent us a collage of photos. Kelsey Norris Kelley showed us how married couples do selfies. Arenee Luvseveryone showed us her winsome smile and reminded us her birthday was coming up (Happy Birthday, btw!).
Each of them were rewarded with an XL Big Green Egg with stand, valued at more than $1,000.
Congratulations to our five winners! We look forward to seeing more selfies as you and your friends start chillin' and grillin' in the backyard with your new Big Green Eggs — bonus points if you take them on the patio of a new Sienna Plantation home!
Thanks to everyone for the many fun photos taken in our Sienna models, you may not have won, but you sure made our day. Keep checking back with us and watch for other Sienna promotions in the future.